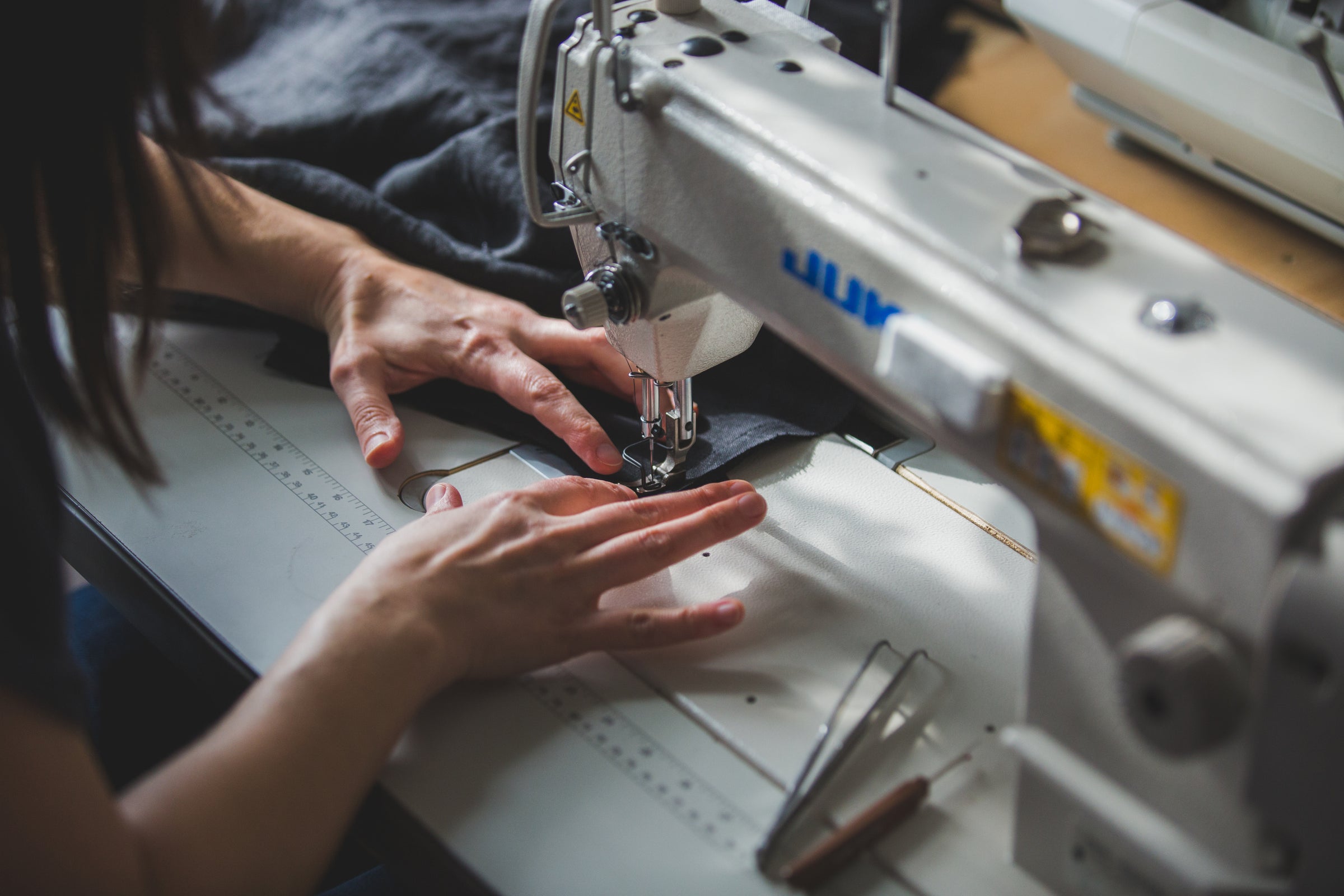 The longest possible life of our products is important to us - for you and for the environment. Here you can learn what you can do ,to extend the life of your ROTAUF product.
Care
The correct care is key, to enjoy our products for as long as possible. Since we completely avoid harmful chemicals in the production - which are also partly used to facilitate the care - our products require special attention in the care. How this works and what you need to you need to pay attention to, you can discover here:
.
OVERVEIW
If you use the Ultralight or Tour Jacket daily, wash it at least 1x in 2 months, if you use it occasionally
wash it 2x per year. Important: Do not use fabric softener when washing.

REQUIRED PRODUCTS
- Detergent: Regular Gore-Tex detergent, available in any sports store.
- Impregnation product: We recommend the Fibertec Textile Eco Guard Spray. Or just ask at your sports store of choice. We recommend using a PFC-free product - that protects the environment.
BACKGROUND INFORMATION
- Washing: do not use bleach, fabric softener and aggressive stain removers. Frequent washing of a waterproof jacket is necessary for the following reason: in order to seal the seams of the jackets, adhesive strips (so-called tapes) are applied to the inside. The adhesive of these tapes is very sensitive to acid. Since human sweat is quite acidic, it can attack the adhesive of the tapes over time. To prevent this, regular washing is important.
- Impregnation: Without a good impregnation, the outer fabric of the jacket soaks in the rain, which means that sweat can no longer be transported to the outside. This in turn can lead to a moist feeling in the jacket. To prevent this, regular impregnation is important.
- Clothes Dryer/Tumbler: An impregnation can be imagined like many fine hairs on the surface of the jacket. A drop of water remains on these hairs and repels. Through use and washing, these hairs become bent. Chemically, these hairs are designed to be straightened by heat and reconnect better with the fabric. Therefore, the additional treatment in the tumble dryer for 20 minutes is important.
Caution: dry only in gentle cycle (too high temperature damages the membrane). Alternatively, the jacket can also be hung up to dry in a warm room (e.g. in the bathroom).
PROCEDURE
1. Make sure that all zippers and Velcros are closed and the drawstrings are loosened. Then put the jacket in the washing machine. Wash the jacket on the left side, inside out.
2. For washing, we recommend a commercial Gore-Tex detergent, which you can buy in any sports store. Important: Do not use fabric softener. The jacket should be washed in the sports wash cycle at 30°C.
3. For reimpregnation, we recommend a PFC-free spray, such as Fibertec Textile Eco Guard Spray. Take the jacket out of the washing machine directly after washing - the jacket must still be damp. Turn it right side out again. Place on a clean surface and spray generously with the spray. Then, using a damp cloth, spread the milky liquid of the spray on the jacket and rub it in gently.
4. After washing or impregnating, place in the dryer and dry in gentle cycle for 2 minutes. If you do not have a dryer / tumbler available, the jacket is hung to dry on a hanger (do not hang in the sun).
5. Done :-)!
OVERVIEW
Our insulation jackets are lined with Swiss virgin wool. To preserve the insulating properties of wool, the jacket should be washed as little as possible. If the jacket must be washed, this can be done without problems in your own washing machine at 30 ° C wool wash cycle.
REQUIRED PRODUCTS
- Detergent: standard wool detergent
- Impregnation product: Nikwax TX-direct Spray​
PROCEDURE
1. First check that unpleasant odors cannot be removed through airing and that stains/soiling cannot be washed out by hand. If this is possible, no wash cycle is necessary. The following steps do not have to be performed, the jacket can be used further.
2. Check before washing whether the water repellency of your jacket is still sufficient. Wet the jacket with a few drops of water for this purpose. If the drops remain on the surface and can be easily shaken off again, the beading ability is still sufficient. If the fabric of the jacket absorbs the water, the repellency is insufficient and reimpregnation is necessary (See step 4).
3. If the stains and odors are stubborn, the jacket can be washed at 30 ° C in the washing machine, preferably with the wool wash cycle. As detergent you should use a commercial wool detergent.
4. This step is optional and must be done only if you have noticed in step 2 that reimpregnation is necessary. We recommend Nikwax TX-direct spray for reimpregnation. For reimpregnation, the jacket must come directly from the washing machine, i.e. it must still be moist. Then place the jacket on a clean surface and spray with the Nikwax spray. Do not spray too much. Then, using a damp rag, spread the milky liquid of the spray on the jacket and rub it in. Proceed to step 5 when the entire jacket is re-impregnated.
Important: no residue of the impregnation should remain on the jacket. Completely rub in sprayed liquid. Approximately 1⁄ to 1⁄2 of the whole bottle is needed for one jacket.
5. After the wash cycle, the jacket must not be shaken out and should be hung on a hanger or, even better, dried laid out on a clothes horse. Do not put in the tumbler / dryer!
6. Done ;)
OVERVIEW
As wool is naturally odor-resistant and stain-resistant, it can be worn much longer between washes than cotton or synthetic fiber. If washing is necessary, please wash with similar colors or separately. These instructions apply to all ROTAUF products with merino wool.
REQUIRED PRODUCTS
- Detergent: Regular wool detergent.
- Important: The detergent must not contain bleaching agent. Well suited is the liquid mild detergent for wool and silk from Coop Oecoplan.
- Use cloth or mesh bags (available in stores) to further protect your Merino laundry from zippers, snaps, etc.
.
BACKGROUND INFORMATION
- Washing: Important - do not use bleach, fabric softener or aggressive stain removers! These leave a layer on the wool fibers, which impairs breathability and moisture transport. Regular full detergent removes the fat from the wool, making it hard and brittle.
- Storage: We recommend you to store your Merino clothes folded in a cabinet or drawer. It is recommended to put a piece of Arvenwood or a lavender sachet to the laundry so that no moths, beetles etc. eat your favorite piece and leave holes.
- What is pilling? Pilling or linting is a natural process that can occur when shorter fibers work their way to the surface of the fabric. The best way to avoid pilling is to wash your garment at the latest after three wears.
- Things to know for on the way: In case you do not have the possibility to wash your clothes in the machine, we recommend the following procedure: Airing out in humid weather, the humid air flows through the garment and absorbs dirt and odors. If necessary, you can also wash your Merino piece with a mild shampoo, but do not wring out, better to dry lying.
- holes: how can they happen? Heavy wear and tear, getting tangled with thorns, jewelry. Due to friction on the belt buckle, snaps, etc.. Moths, carpet beetles and the like.
PROCEDURE
1. Please note the care label inside. Your Merino laundry can only be washed at 30°C with the wool wash program.
2. Check your washing drum for defective spots.
3. Place inside the drum in a cloth or mesh bag, add wool detergent.
Important: Select wool wash program and reduce the spin speed to 60 tours. Too high spin rates will damage your Merino laundry, they will stress the wool fibers too much and the laundry will shrink.
4. When the wash cycle is over, please remove laundry as quickly as possible and lay out to dry on a clothes horse. Do not dry in the tumbler!
5. done - off into the drawer or immediately put on again ;)
Repair
Our clothing is made for outdoor use and the associated stresses. This also means that minor or major defects caused by frequent use or carelessness can usually be repaired. Here you can find out what you can do if your product has a defect:
Who does not know it? A short carelessness at the campfire or with the crampons and already the pants have a small hole
In such cases, a piece of duct tape can often provide quick relief. By the way, this solution also helps to increase your credibility in the mountain sports scene... :-)
If you like it a bit neater, we can recommend the Repair Patches from Tear Aid. With them, almost anything can be patched.
If you want your favorite piece to look like new again, our repair service will be the best solution for you.
If rugged rock faces have an attraction to you, you like to make the head from the bike, or with our clothes just easily times 100'000 meters in altitude, we offer you a repair service.
If you want to take advantage of this, send us a short message, preferably with a photo of the problem, and we look together with you and our repair partner at the cost and the further procedure.
We have most of the spare parts for our products in stock in Chur. If your product needs something replaced, send us a quick message and the part will come to you quickly